Toddler slides is a free program to display random images and play sounds.
The program comes with some pre-installed sets of images and fitting sounds but you can add as many images and sounds as you like just by copying them on a specific folder or creating a shortcut of them on this folder. No need to much a specific images with a sound the program will automatically seek for sound and image files with the same name and play them together.
Your computer is kept safe by disabling windows system shortcuts and function keys (e.g. alt-tab, F1, win-key, etc).
The program works on Windows 2000, Windows XP, Windows Vista and Windows 7.
Features
Very simple to setup and run User selects folder where images and sounds reside Option to automatically scan for subfolders within selected folder Supports jpg, bmp and png images and wmv sound files. Disables windows system shortcuts and function keys while running (e.g. alt-tab, F1, win-key, etc)
Screenshots
Click on the thumbnail for a full-sized image.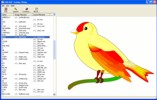 Changelog
Download/Install
In order to install 100dof Toddler Slides on your system, you have two options: Automatic installation (setup wizard) and manual installation (zip file).
Automatic Installation (recommended method)
In order automatically setup 100dof Toddler Slides (with the setup wizard) follow the instructions below:
Download 100dof_toddler_slides_setup.exe and save in a temporary folder. Run 100dof_toddler_slides_setup.exe to start the setup wizard Select the desired installation settings, and click 'install' to start installation.
Yoy can also use the following mirror site:
100dof_toddler_slides_setup.exe (Mirror 1)
Manual Installation (for advanced users!)
In addition to the automatic installation procedure described above, all necessary files are also offered in the form of a big zip file that you can download and decompress a convenient place.
Both installation options, also include a small set of sample image and sound files.
The included sound files were downloaded from Partners In Rhyme (http://www.partnersinrhyme.com) who also retains all copyrights for them. For additional copyright information, or in order to download even more great sound effects please visit their site.
The included image files are believed to be in the public domain and were downloaded from wpclipart (http://www.wpclipart.com), a great source of free clipart and image files.
Additional datasets
In addition to the included sample images and sounds the following datasets are also available for you to download:
Freeware Disclaimer
Toddler slides is freeware. The author, of this software accepts no responsibility for damages resulting from the use of this product and makes no warranty or representation, either express or implied, including but not limited to, any implied warranty of merchantability or fitness for a particular purpose. This software is provided "AS IS", and you, its user, assume all risks when using it.
Privacy Policy
This app does not communicate any information (personal or not) to us. Moreover, we do not collect any personal information. If you send us an email (e.g. for support or feedback) we will keep your email for future correspodence but we will not share any information contained in this email and we will not use your email address to spam you
Contact and feedback
Please, feel free to send comments and feedback at the following email address:
xmpalt[at]100dof[dot]com
Alternatively, you can use our contact form.